Small medieval city with unique architecture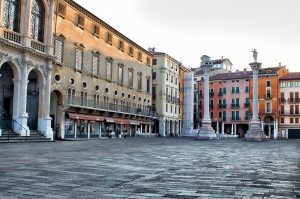 Unique for its architecture, romantic for its picturesque glimpses, sought out for the silence of its hills, the city of Vicenza is enchanting thanks to its architectural jewels, real open air museums, villas, palaces, and squares. The heart of the city is the Piazza dei Signori, on which the Palladian Basilica faces, but the one place that you must absolutely see is the Olympic Theatre which was commissioned by the Olympic Academy. And if you manage to attend a program at the Olympic you will understand just how great this place is.
You breathe in the history, life and culture in the streets of the centre. All that you need is the patience to wander around with no particular destination in mind.
And don't forget to visit the Villa Valmarana ai Nani just outside the centre, where you can admire frescos by Tiepolo. There is also the Rotonda, an example of Palladian architecture, which is precisely where a long cycling path begins that will bring you very close to our cantina; an alternative way of getting here for a visit.