Padua is the city of knowledge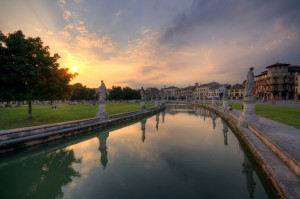 Padua's fame is due in large part to its university. Galileo Galilei studied here and the first woman in the world graduated from here: Elena Lucrezia Cornaro received her degree in Philosophy. Padua is also known as the "city of cafés with no doors, fields without grass and saints with no names", where the most important saint is Saint Anthony, the field without grass is Prato della Valle, and the café with no doors is the celebrated Pedrocchi Café which is always open, night and day.
One place that shouldn't be missed is the Scrovegni Chapel with its cycle of frescos by Giotto.
For a nice walk, choose the three main squares: Piazza dei Signori, Piazza delle Erbe and Piazza della Frutta. Here you will find several street vendors of food. Try the folpetto alla veneta (typical starter dish of boiled mantis shrimp, octopus, cuttlefish eggs and prawns, and served warm with oil and lemon) and you'll be a Paduan for a day.